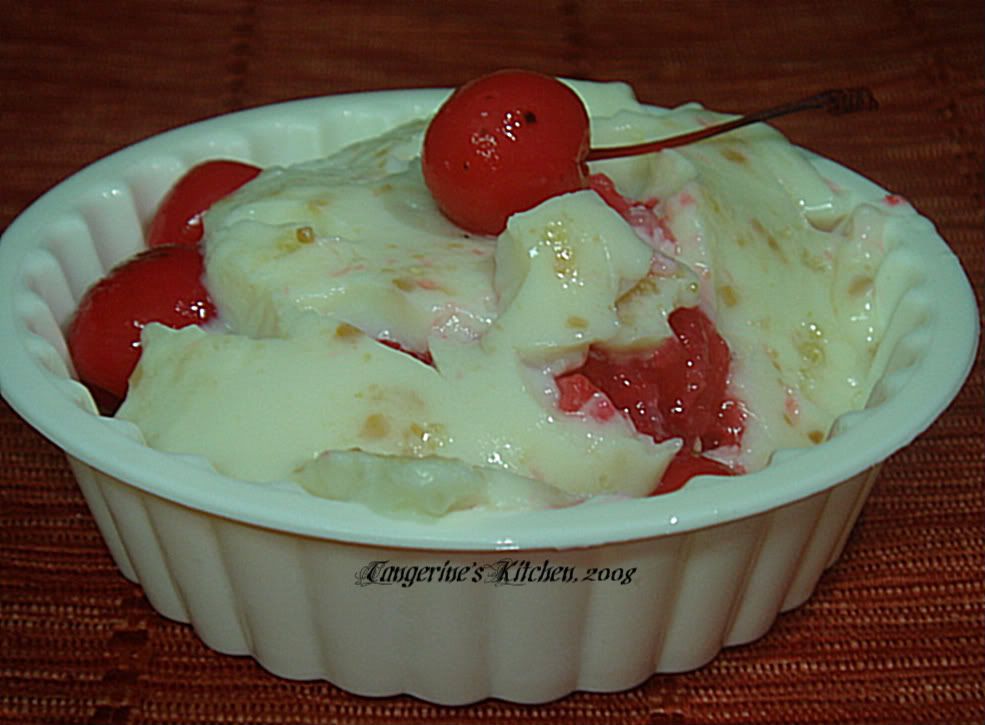 Been a while since i got down to doing a post..Other interests have taken the upperhand...

A and I have been wanting to please ourself with a pudding that was rich, sweet and creamy. Since AFAM is being hosted this month here, a pudding with cherries was decided upon.

This pudding has no eggs but does have cornstarch to thicken it.I have never liked eggs in my pudding because of the eggy taste that is quite overpowering in most puddings...This is an experimentation and I must say it result was a delicate, light and great tasting pudding.

This pudding is three layered with a biscuit base as the bottom layer. The second layer is the creamiest. The top layer has the crowning glory, the cherries.So here's what I used. The following is my measurement as per my taste and feel of each layer. So feel free to experiment.



Bottom Layer:

Biscuits-about 20 (enough to line the base of the pudding dish that is being used. I used Marie biscuits.)
Butter-30g

Powder the biscuits and mix them using the butter. Pack the bottom of the dish with the biscuit layer. Press them down tightly.

Middle Layer

Gelatine-20g
Water-1 cup
Icecream-500g (Vanilla was used here)
Yoghurt-1 cup
Sugar-3 tbsp (do a taste test to add as per your taste)

Heat the water to dissolve the gelatine.
Mix the youghurt, sugar and the gelatine and add them into the icecream.
Heat the above using the double boiler method until it forms a smooth and creamy liquid. Pour this over the biscuit layer.

Top Layer

1 cup of pureed pitted cherries
Cornflour-1tbsp
Sugar-3 tbsp
Lemon Juice-1 tsp

Mix the above with 1/4 cup of water and heat until you get a smooth liquid. Pour this over the creamy layer.

I expected this layer to stay above. Instead it sank but when I cut it to serve the pink layer had taken the place of the creamy layer..as you see in the first picture of the served pudding.

Chill the pudding before you serve.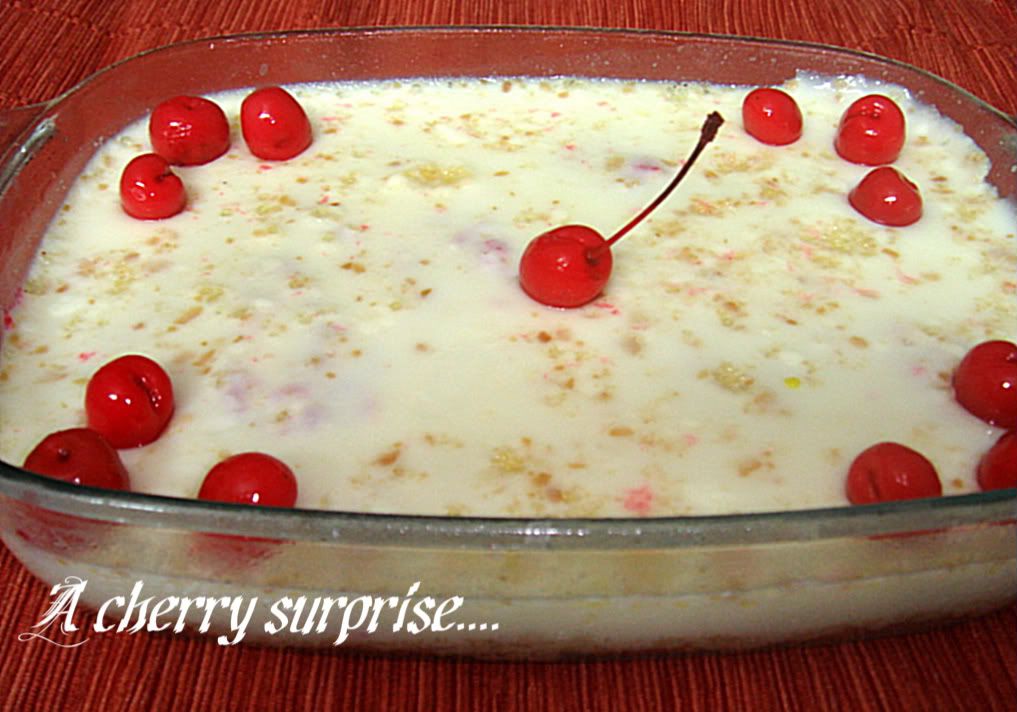 This pudding is my entry to AFAM:Cherry being hosted here this month. So for all of you who haven't yet sent entries..it is time to get thinking cherry. And yes, there is a surprise awaiting an entry for AFAM.

Since this experimentation resulted ina sweet something, this is also to celebrate a dear friend's anniversary celebration of her lovely blog.