A big applause for me for 2 reasons. 1. I just finished two oil paintings as a comission and I got rewarded well for that. 2. I am taking a trip to a dream destination courtesy a part of the reward for the weekend.
Great isn't it. To share this joy I wanted to make something or rather bake something that had chocolate in it. All I had was this lone box of chocolate chips and finally it was put to use and very wonderfully at that all thanks to a recipe from Joy of Baking.
The chunks of chocolate or the so-called chips that they are sold under in India are very very miniature and aren't that perfect tear-shaped ones that I love.Choclate chips in cookies were always favoured until I made this.
What you need for the muffins are (from
here
.
1/2 cup unsalted butter, melted and cooled
2 large eggs
1 cup milk
1 1/2 teaspoons pure vanilla extract
2 cups all-purpose flour
2/3 cups granulated white sugar
1 tablespoon baking powder
1/2 teaspoon salt
1 cup semisweet chocolate chips
Preheat oven to 190 degrees C.
Whisk together the eggs, milk, and vanilla extract.
In another large bowl whisk flour, sugar, baking powder, and salt. Stir in the chocolate chips. Fold in the the wet ingredients, along with the melted butter, into the dry ingredients and stir only until the ingredients are combined. Do not over mix the batter or will result in a hard muffin.
FIll lined muffin tray and bake until done. Transfer to a wire rack and let cool.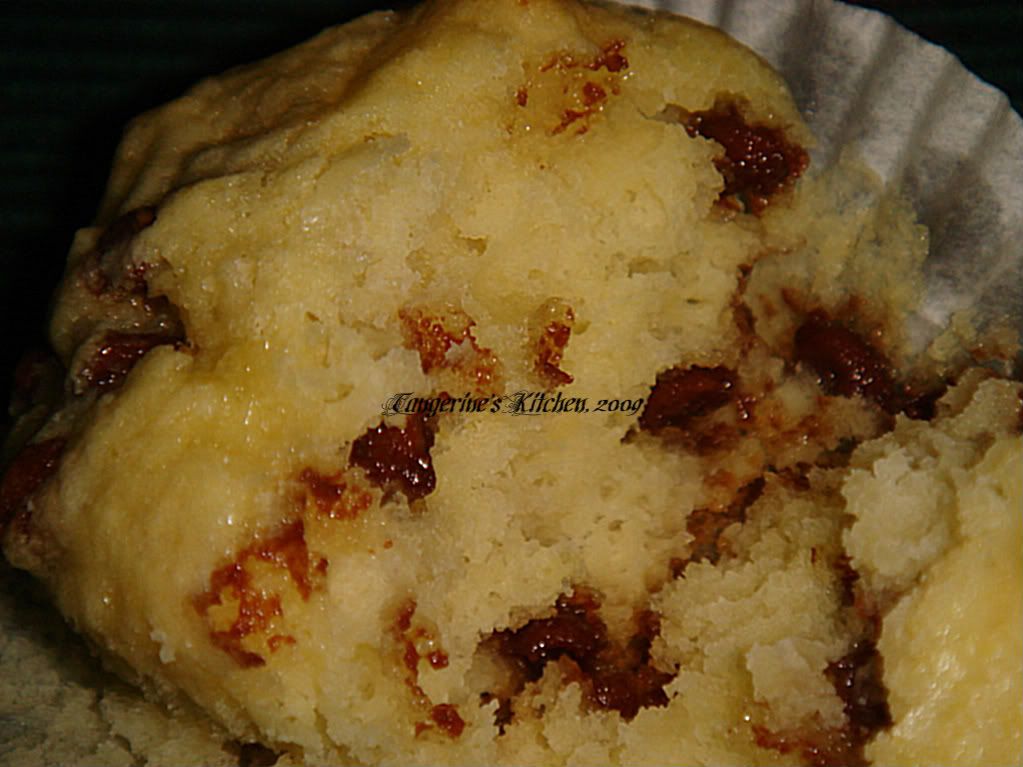 A moist sweet muffin that gets you asking for more.
On another note,
Aparna
and I am back into baking from each part of the world. This time, we have a
traditional bread
originally from Mexico..Read about it
here