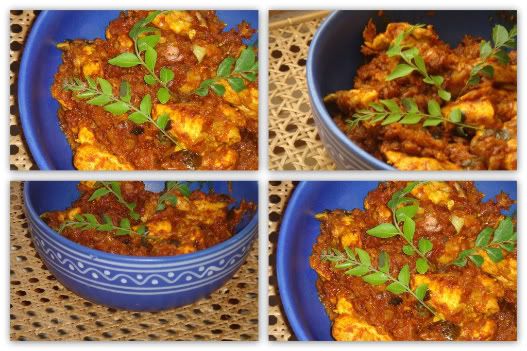 I contemplate a lot on my childhood now, more so because I am a mother now. I find it hard to bring up a single child when she made it look easy bringing up both my siblings and me..three of us- a year between each other.
Many a times, i have wandered aimlessly, she brought me back on track. She set me free the day I got married and it was when I moved away that I realized how much I missed her. A day has never passed without calls to and fro.
Her most precious gift apart from he limitless love, care and suppot is a handwritten book of recipes given to me the day I got married. Neatly categorized, it is my most prized possession. When I was doing my graduation, there were a lot of people who urged my mother to teach me cooking because according to them every girl should learn cooking or the mother is blamed at a later stage for not doing it. My mother on the other hand believed otherwise. She believed in bringing up a daughter and not a cook. I have only evolved at cooking. And the book has played a major role in doing it.
What I present today is one such recipe from my prized possession, chicken stir-fry.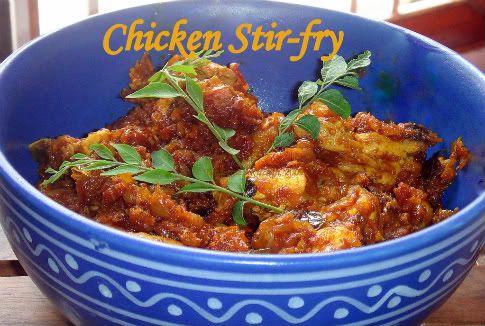 What you need ae:
Chicken-500g
Onion-6,sliced(use more if you want more masala)
Green Chillies-6 chopped (this depends on the spiciness you can handle)
Tomato-1, chopped
Ginger-2T, chopped finely
Garlic-5 or 6 cloves, chopped
Chillipowder/Cayenne-2T (again this depends on what you can handle because of the fact that green chillies are already added)
Turmeric Powder-1T
Coriander Powder-3T
Masala Powder-1T (Seena has a
version
that we use at home too)
Curry Leaves-2 sprigs
Salt as per taste
Coconut Oil-3 T (Use any oil but coconut oil lends a distinct flavour, which works well for this kind of preparation)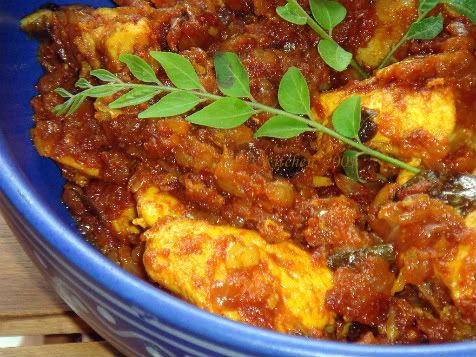 Saute the sliced onions and green chillies and curry leavesuntil they turn a golden brown. Add in the ginger garlic and saute for another few minutes. Stir well at this time because they tend to stick to the bottom of the pan. Add in the powders and the chopped tomato. Stir this until oil emerges from this masal mixture. Add in the chicken pieces and stir to coat them well. On high heat, cook the chicken until they are half done. Lower the heat, close the pan and allow to cook for almost half an hour. It is best that water is added but if the masals starts to stick to the pan add water only in tablespoons.
This is what I sent over to my mother's place for lunch and her advice was to let the chicken sit for atleast 15 minutes in the cooking pan for the flavours to seep in.