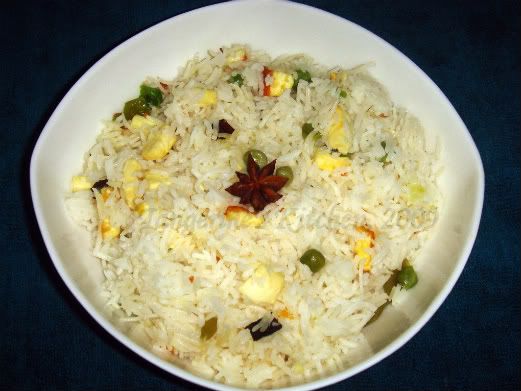 Aparna's
Announcement
for the
Tried and Tasted event
led me to Lisa's
blog
which was relatively new to me. Since the announcement, I have been at this new discovery of a blog almost everyday browsing through her lovely collection. Her blog is a typical example of her love for Indian food.
I chose to make her
Rice with Paneer and Peas
and am glad I did. Lisa's is a modified version of the recipe she had found in
Madhur Jaffrey's World of the East Vegetarian Cooking
. Paneer is an all time favourite and peas come in close too. And this being a rice made with very little effort, it was all the more enticing to try.
The recipe is as follows
1 C of basmati rice
1 C of fried paneer cubes
3 T of ghee, or a mixture of butter and oil
1 t of salt
1 large bay leaf
1 inch piece of cinnamon
3 whole black cardamom pods
2/3 C of peas (fresh or defrosted frozen peas)
2 hot green chilies or jalapenos, cut into fine half rings
1 t of cumin seeds

Wash the rice well and drain. Soak the rice in five cups of water and leave to saok for at least 30 minutes. Drain and leave to dry for another 10 - 20 minutes or so.

Heat the oil in a medium sized heavy pot over medium heat. When it is hot, add the bay leaf, cinnamon, and cardamom. Stir for a few seconds, and then add the drained rice, peas, salt, green chilies and cumin seeds. Stir and fry for 5 minutes. Add 1 1/2 cups of water and bring to a boil Cover, turn the heat to very low and cook for 15 minutes, or until the water is mostly evaporated. Take off the lid and quickly put in the paneer. Cover, and cook for another 2 - 3 minutes. Remove from the heat and let the rice sit, covered and undisturbed, for 10 minutes. Remove the bay leaf, cinnamon and cardamom and gently fluff with a fork. Serves 4.
This is my entry to the
Tried and Tasted Event
hosted at
My Diverse Kitchen
.